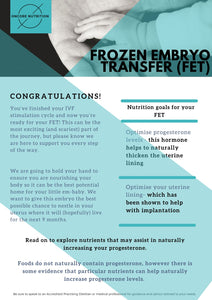 OnCore Nutrition Frozen Embryo Transfer Guide
Regular price $10.00 Sale
OnCore Nutrition Guide on your frozen embryo tranfer (FET). 
You've finished your IVF stimulation cycle and now you're ready for your FET! This can be the most exciting (and scariest) part of the journey, but please know we are here to support you every step of the way.

We are going to hold your hand to ensure you are nourishing your body so it can be the best potential home for your little em-baby. We want to give this embryo the best possible chance to nestle in your uterus where it will (hopefully) live for the next 9 months.