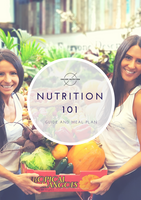 OnCore Nutrition 101 Guide
OnCore Nutrition Basics - everything you need to know to tailor your plate and build your best you. You'll understand the value of food and nutrients and we'll let you in on some tricks to optimise your health. Includes tips for eating out and a foolproof meal plan for busy people.
View Product
Disclaimer
Disclaimer: While reasonable efforts have been made to ensure the accuracy of material, any information provided on this website and any associated material is generalised and all individuals should assess content for relevance and appropriateness to their individual needs. Nutrition therapy should not be used as a substitute for medical treatment. Please consult your healthcare professional for a nutritional assessment and advice tailored to your needs and before making any significant dietary changes or taking nutritional supplements. Information on this site and any associated material may contain technical inaccuracies or typographical errors. Information and products may be changed or updated without notice. Please contact OnCore Nutrition with any concerns that may arise.