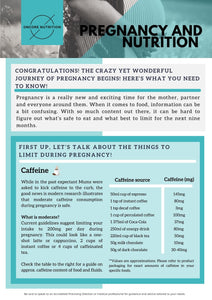 OnCore Nutrition Pregnancy Guide
Regular price $20.00 Sale
OnCore Nutrition Guide on your nutrition throughout pregnancy. 
Strap yourself in! You're in for a crazy magical ride!
Pregnancy is a really new and exciting time for the mother, partner and everyone around them. When it comes to food, information can be a bit confusing. With so much content out there, it can be hard to figure out what's safe to eat and what best to limit for the next nine months. Let us help you out with our pregnancy nutrition guide.
We keep up-to-date with the most recent scientific evidence so you don't have to.